Home | Biography | Discography | Listen Music | Lyrics | In Concert | Gallery | Ordering Music | Contact | Links

Official Biography-




Creating an original and an unique blend of Reggae (Kemet Roots Reggae), stretching significantly the boundaries and expanding the vocabulary of Congolese (former-Zaire) and Kemetian (African) Reggae, Kongo Banga released his debut album " Africa Womb Of Humanity" late '95 on Kongo-music Ltd label.
A blend of music combining diverse native rhythms and beats from the DR Congo with Rock and Reggae, carrying universal and humanitarian visions as the essence of Kongo Banga's inner researches. The militancy within conscious lyrics expressed by emotional vocal are clearly there to be heared. As an independent artist Kongo Banga acquired international popularity performing several European main-stages and festivals. To name a few: the three days Jura Hills Festival '94 with Ras Michael in Germany; a successful CD promotion and TV shows back in his hometown Kinshasa, DR Congo in 1995. Performing the main-stage with Black Uhuru at Racism Beat It Festival 1996, Spaarwoude in Amsterdam; Headlined Sommernachtsfest 1996, Luisenpark's 100 years anniversary in Mannheim, Germany; hired with his band to back up Herman Brood Marlboro Flashback Tour 1996, including TV performances (Veronica, RTL5, AT5 and others) , the Netherlands; invited to take part on the CD "50 the Soundtrack" by the late Amsterdam Rock and Roll junky Herman Brood, together with major Dutch artists and Nina Hagen from Germany. This event was celebrated by the all stars show at Paradiso, Amsterdam.
A year later, Kongo Banga was requested to write the songtitle " Mboka ya Bosomi" for the TV series named " Kongo", the Original Soundtrack CD by Henny Vrienten (film music composer, bass-player and founding member of the legendary Doe Maar) broadcast by RTBF, BRT , France 3, Canal+, Veronica...
In early '98, at the request of Her Majesty Queen Beatrix, Kongo Banga performed at the ceremonies of the 60th anniversary of H.M.the Queen and H.H. Prince Claus, in the presence of several European and world authorities, at the Royal Palace in Amsterdam. June 2007, he has performed at the 5th anniversary of the Curatorium of the Prince Claus Chair, and also, at the presence of H.M. the Queen Beatrix and Princess Maxima at the Royal Palace Noordeinde, The Hague.
Kongo Banga's latest album was recorded in Amsterdam (The Netherlands) and Kingston (Jamaica). It contains tracks recorded with one of the world's greatest Reggae architects Aston " Familyman" Barrett, the Bob Marley and the Wailers living legend bass-player and leader of the Wailers band up to these days.

Operating internationally has made the artist Kongo Banga absorb more sound techniques, human experience and production knowlegde in order to sharpen his unique kind of style and sound. In 2008, Kongo Banga recorded new tracks for his upcoming album backed by I Jahman Levi singer-guitarist Steven Wright and the London Sly and Robbie based rhythm section Mafia & Fluxy. In 2009, he performed at the Notting Hill Carnival alongside Levi Roots with his Reggae Reggae Sauce. In 2010, Kongo Banga has started the "Reggae African Roots Night" of which he organised several successful editions with guests such as the LondonAfroBeatCollective.
In the fall of 2004, Kongo banga founded "Ekelamu" to promote artists and bands. Organising EasyJammin Concerts, Indoor and Open Air Festivals and other EasyJammin projects such as the EJ-WorkshopJam, supporting youths to learn and develop their musical talents, as well as providing a platform for vulnerable youths and adults to express their views and opinions.

In 2013, Kongo Banga put his musical career aside to study and graduate at the University of Greenwich, London, United Kingdom and is currently supporting vulnerable young and elderly people in our society, especially those who are suffering from autism. There are works to be done, so let's do it little by little…words by Bob Marley.

In the fall of June 2016, Kongo Banga has been reunited with the Roots Of Humanity band to fulfil the unfinished musical mission. After some years of deep meditation, you can catch them performing live on stage once again near your town.

The Roots of Humanity (T.R.O.H.) is a culturally diverse and experienced ensemble using instruments such as:

Bass

Drums

Percussion

Lead Rhytm Guitars

Keyboards

Background Vocals

Saxophone

Trumpet

Lead Vocals.

---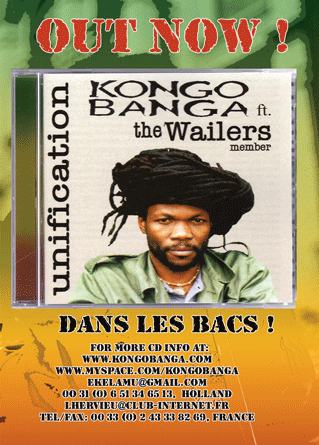 ---